Rainforest Campsite & Drive On Sites
Our campsite is located right on the doorstep to Lamington National Park and the entrance to most walking tracks. The nearby Tea House cafe is also open for all guests and features a small gift shop with basic supplies and retail goods.
Camping options include campsites for up to 4 people and a limited number of powered drive-on sites suitable for small campervans. Sites are level pitches. No vehicle access is possible onto campsites, only on drive on sites.
Tents and gear must be carried a short distance from the loading bay to pre-allocated sites.
Choose from three types of campsites:

Extra comforts available in the campsite:
Access to shared fire pits
Access to free BBQ facilities (BYO cooking equipment and cutlery)
Communal camp fridge available, as well as microwaves and boiling water.
Note: Campsite and Bunkroom bookings in early 2024 may experience low noise interruptions from the construction of our new welcome building.
Click here for more detailed information on expected noise levels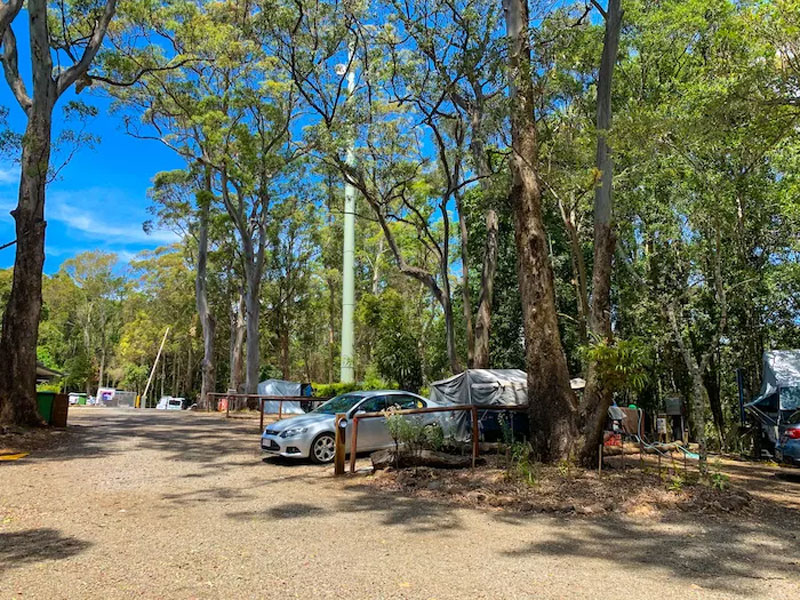 Campsite Bathroom Facilities
Campsite Bathroom Facilities
Campsite Bathroom Facilities
Campsite Bathroom Facilities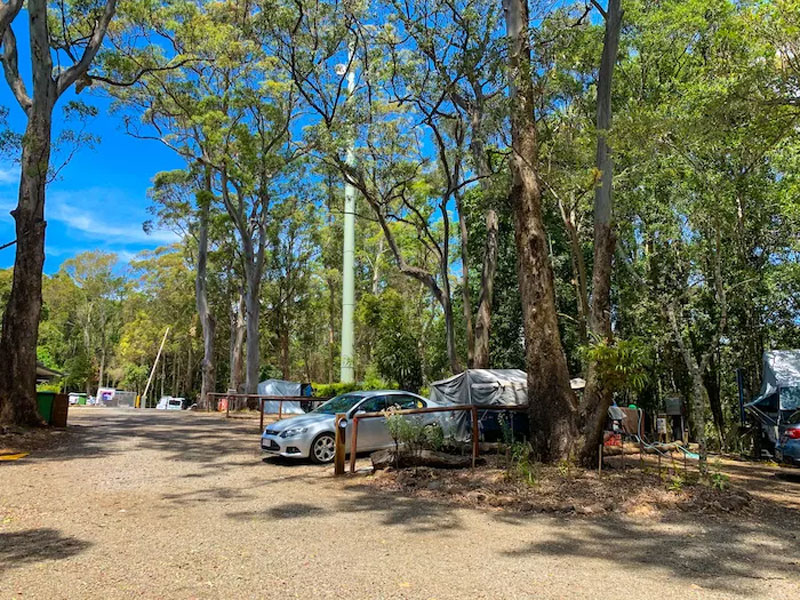 Facilities Available
Free Shower and Toilet Facilities Nearby and Cleaned Daily
Free Parking
Nearby cafe, restaurant and bar
Coin operated laundry
Nearby Gift Shop
Milk and Ice From The Tea House
Shared Fire Pits
BYO Cooking Equipment and Cutlery
Where would you like to stay?
From our secluded Rainforest Campsite to our award-winning Luxury Sky Lodges we've got you covered.
TINY WILD HOUSES
Experience luxury in nature's embrace at Binna Burra's Tiny Wild Houses with breathtaking views
Tiny Wild House Living Area
THE SAFARI TENTS
Take the stress out of camping and enjoy a front row seat to the most breathtaking rainforest views
Suite Style Safari Tent View
Standard Safari Tent View
Standard Safari Tent View
PRIVATE BUNKROOMS
Fit for those seeking a convenient and cosy place to rest and recuperate between rainforest adventures
Bunkrooms at Groom's Cottage